The first Metal Lorries range was a range of bonneted types. The caps were an open,with a long bonnet and either a black or silver radiator. The wheels were very thin discs of metal with thin rubber tires. Several models had a consisted of a steel cab and chassis with a wooden caravanette body on the back. In 1930 the range of these Lorries had 22 different models. Including three General Omni- buses and three Cranes.
A. Doll's Motor Vans (1)
In 1928 Tri-ang introduced the Doll's Motor Vans series with
realistic metal radiator, Tailboard hinged, Steel axles, polished wood wheels
with steel hubs. There were three sizes:
P/1 51 cm
P/2 59 cm
P/3 66 cm
| | | |
| --- | --- | --- |
| Doll's Motor Van size P/1, c.1928 - the smallest of these vans, wooden construction including turned rubber wheels, still largely in the original blue colour with opening rear tailboard, wooden steering wheel and original metal grille. 51 cm | Doll's Motor Van size P/1, c.1928 - large wooden 4-wheeled Covered Lorry in largely original blue colour although some over varnishing, original red turned wooden wheels, opening rear tailgate and metal radiator grille, still with pull chain and "Triangtois" circular emblems to each side . 60cm | Doll's Motor Van size P/2, c.1928 - medium sized wooden construction, 59cm long in largely original blue paint finish with yellow lining, turned rubber wheels, original "Triang Toys" circular emblems to sides, fitted with repro metal radiator grille |
A . Doll's Motor Vans (2)
There were three other models in the Doll's serie :
a Doll's Touring Car - a Doll's Charabanc and a Doll's taxi..
The Touring Car had a metal radiator , steel disc wheels , domed mudguards , a dummy hood and a windscreen. It also had upholstered seats and was painted in azure blue.
Length : 53 cm - Height: 18 cm
The Charabanc had the same features as the Touring Car but finished in red.
Length 76 cm - Height :28 cm
The Taxi had a polished aluminium radiator, steel disc wheels, door to open, a taximeter domed mudguards , steel axles and windscreen. It was painted in blue with a black top and wheels.
Length : 50 cm - Height: 28 cm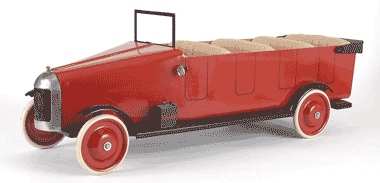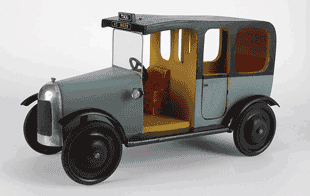 B. Bull Nose Series
Another 1928 range is the Bull Nose series with four wooden models:
The Evening News Van, the Daily Mail Van , the C.O.& Co Carter Paterson Van and the Royal Mail Van.
They all have the same size and measurements:
Length: 48cm - Width: 22 cm - Heigth: 28cm
| | | |
| --- | --- | --- |
| | | |
| | | |
| | | |
| | | |
| | | |
B. Titan series
The Titan series was made till 1930 and consists two models.
I have never seen these models and I'm not sure they were ever made.
With steel chassis and steel discs. Black enamelled bonnet and cab.

Made to tip by turning starting handle.

Unbreakable. Dummy springs fitted to axles.

The steering wheel operates the front road wheels.

Length: 71 cm - Width: 22 cm - Heigth: 27cm

A massive truck with steel chassis; black enamelled bonnet and cab in red witha back door to open. The steel disc wheels have real Dunlop solid rubber tyres. Domed mudguards.

Length: 70 cm - Width: 22 cm - Heigth: 31 cm
C. 1928 Metal Fire Engine
Red pressed steel chassis and bonnet, wooden rear body with ladder and opening compartment, repro vel and wheels, but with an original Ford lithographed grille,

Ladder is detachable. Imitation extinguishers,

hose and bell make this model very realistic.

47 cm long
D. Metal Lorries
In 1930 Tri-ang introduced the first metal lorries.
The Metal lorries were produced till 1937, except the Tipping lorry, the Van and the Breakdown lorry.
These three models were made until WW.II All these lorries are stove enamelled red, and had steel disc wheels with rubber tyres.
Tri-ang used two different grills on this series . Let's have a look at these models.
Metal Tank Wagon 1/TW
The Tank Wagon had a filer and a brass tap and a decal : Motor SHELL spirit.
Metal Van 1/V
The Metal Van, with production no. 1/V, had an adjustable tailboard for loading purposes. Window and steering wheel in driving cab and a Smart radiator.
| | | |
| --- | --- | --- |
| | | |
| | | |
Pedals
The Metal Lorries have three tabs preteding to be the brake pedal, the accelerator and the clutch
Metal Tipping Lorry 1/T
The Tipping lorry was designed on the same lines as the real thing. Body tipping was operated by lever from the driving cab. As said all models were stove enamelled red.
An exception was a blue/green one, produced in 1938. This Tipping lorry got the same grill as the later Bedford series.
Metal Breakdown Lorry 1/BL
The Breakdown lorry was constructed of heavy gauge sheet steel. Working model crane swivels on chassis, chain winding gear and controlled by a non-slip ratchet and adjustable jib.
Metal Timber Lorry
The Timber lorry was loaded with planks which are held by a chain.
Metal Milk Lorry
The Milk lorry was supplied with 6 churns. Very rare is the text on these churns: Tri-ang TOIS.
Metal C.P. & Co. Van
The subscription in the 1930 catalogue: Steel and throughout almost unbreakable. Correctly painted and worded. Adjustable tailboard at rear. (see yellow arrow).
| | | |
| --- | --- | --- |
| | | |
| | | |
| | | |
1937 - 1939 Mechanical toys Series
In this series clockwork cars were 8 models.
There were in fact just 4 models but except the Magic Midget car the other cars could be fitted with or without head lights.
Triang Lines Bros. large tinplate clockwork "Magic Midget" Record Car, c.1937 - large scale model of Captain GT Eyston's Record Car, British Racing greebare , driver figure. 40cm long

Triang Lines Bros. clockwork Saloon No.541 - scarce example from the 1937 Catalogue, tinplate 2-door Car, light green, with chauffeur figure to interior, permanent key, clockwork motor , with metal "Dunlop" wheels 27 cm long

In 1938 the metal wheels were replaced by steel disc wheels and rubber tyres.

Triang Lines Bros. Pre-war pressed steel 20cm Saloon Car - light green, with white rubber tyres and radiator grille.

Triang Lines Bros Sports Car No.2895 - large scale tinplate clockwork Open-top Car is beige with red wings and folded hood, folding clear plastic windscreen, steerable front wheels with steering wheel, the clockwork motor and is supplied with a key

,brake and card box with illustration to lid, 41cm long.

The proud owner of this Sports car collector Justin Taylor send us these pictures.

Thanks Justin.

Triang Lines Bros. Sports Car No 2894 ( repainted) tinplate clockwork example, 1937, in red, green, with black replacement wheels, includes original grille,

clockwork motor with brake.

As above No 2895 but without the two electric lights,
LCC Fire Engine, c.1937 - very rare example comprising a large wooden model of the Limousine style Fire Engines from the contemporary LCC London Fire Brigade. With a red pressed steel bonnet, wooden body, with bare metal Bedford style radiator grille and wheels, removable wooden ladder and hose, bell to cab interior - beautifully done.

46cm long.
| | | |
| --- | --- | --- |
| | | |
| | | |
| | | |
TINPLATE Clockwork Lorries & Vans
2908Steam Box Van

2898 Motor Dust Cart

2897 Motor Tip Lorry

2903 Steam Milk Tanker

2900 Motor Box Van

2899 Motor Petrol Tanker

2904 Steam Box Van

2910 Motor Tipping Lorry

with electric lights

2910 Motor Delivery Van

with electric lights
Steel Chassis Wood body Toys.
The second range of lorries Tri-ang produced in 1930 was a range of Wooden body toys.
Some models were equipped with electric lights.
Caravan
A fantastic model is this Caravan. Windows open, doors and steps at rear. Fitted interior and one electric light and switch. The battery fits in the spring holder, no wires to connect.
| | | |
| --- | --- | --- |
| | | |
| | | |
| | | |
| | | |
| | | |
General Buses.
In 1930 Tri-ang produced three wooden buses. An Electric bus, the General Omnibus No.1 and No.2.On the Double Deck bus page of this site we will bring later this year an extensive description of these marvelous buses.
The production of the above ranges were stopped in 1937 to make place for more modern lorries and new series. The most famous and collectable new range was without any doubt the Bedford series.
Therefore we made a special page for this range "Bedfords" Besides this range Tri-ang introduced two other new series: The "Non- mechanical steel toys" , a Tractor range and a Clockwork Lorries & Vans range.
Tractors
Tri-ang produced a few tractors: There were two series:
The Tri-ang Tractor nr.1 and nr.2 which have heavy rubber bands on steel discs and a clockwork motor and the Farm Tractor nr.1 and nr.2
These farm tractors were similar to the Tractor's but fitted with black rubber wheels in place of caterpillar bands.
There were two other Farm tractors ,fitted with a trailer.
Later on Tracor no.3 came up. It was fitted with three axles.
Very rare is a blue R.A.F. No. 1 blue tractor
Tri-ang Tractor 1 + 2
Farm Tractor 1 +2
| | | |
| --- | --- | --- |
| | | |
| | | |
| | | |
| | | |
| | | |
| | | |
Tanks
The Tank range had two models: a "Whippet"climbing Tank no.1 and a "Tiger" climbing & fighting tank no.2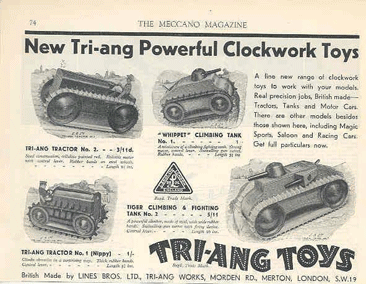 " Whippet" Climbing Tank No. 1
This tank climbs by his strong clockwork motor, with start and stop lever. Thick rubber bands on steel wheels. Gun turret swivels round.
| | | |
| --- | --- | --- |
| | | |
| | | |
| | | |
| --- | --- | --- |
| | | |
| | | |
"Tiger" Climbing & Fighting tank no.2
Swivelling gun turret on top has spring handle to fire the gun. Gun turrets at sides. Clockwork motor with start and stop lever.
| | | |
| --- | --- | --- |
| | | |
| | | |