Without any doubt the buses Tri-ang produced over more than 30 years are the most collectable
Tri-ang vehicles ever. That's the reason I put a page to this web site dedicated to these fabulous buses. The first two buses came up around 1930 in the General range.
1920 GENERAL BUSES
These buses had a steel chassis and a wood body.
ELECTRIC GENERAL BUS
1920s wooden London Bus - dating from the 1920s to 1930s period this Double Decker "General" London Bus is red, with white window surrounds to lower deck, "Fairy cycle" advertising to upper deck and "Triang Toys" to rear open staircase, still fitted with original tinplate radiator and 2 x circular Lines Brothers logos to front and most of the 3 x paper destination boards to upper deck on Service No.123 to Liverpool Street. This early model is fitted with painted wooden wheels and still has the paper seat covering to lower deck, which is hard to find in any condition, 53cm long.
This bus, with a length of 52 cm, was fitted with one electric light inside. It has steel disc wheels with rubber tyres , a number and destination boards, stairs and posters.
GENERAL OMNIBUS No.1
The below pictures came from a U.K. collector Mr. Samuel. ( thank you!!)
The pictures give you a perfect idea of the details of this wooden bus
| | | |
| --- | --- | --- |
| | | |
| | | |
| | | |
| | | |
1928 Buses
In 1928 Tri-ang produced three wooden General Omnibuses as shown below.
Execpt the size adn wheels , No "0" is exact as No "2".
A low priced model with polished handwood wheels, number and
destination boards, stairs and posters. Painted as No 2.

Length: 52 cm - Width:18 cm - Height: 27 cm
A large model, made to scale from drawings supplied by the L.G.O.C.
The steel discs have rubber tyres. Metal radiator and domed mydguards.
Length: 78 cm - Width:22 cm - Height: 36 cm
Just like the 1928 type "double-decker" buses.
Length: 78 cm - Width:22 cm - Height: 42 cm
GENERAL OMNIBUS No.1
The General Omnibus is much larger than the Electric bus. It has a length of 78 cm. It is remarkable that this model was made to scale from drawings supplied by L.G.O.C.
The bus has disc wheels with rubber tyres, a metal radiator and Domed mudguards.
1937 GENERAL BUSES
The General Omnibus is much larger than the Electric bus. It has a length of 78 cm Pre war London Bus - impressive wooden 6 wheeled model in red, cream with a grey roof, detailed
tin printed radiator grille with "General"motif to top. Black pressed steel mudguards. "London Transport" and "Fairy Cycle advertising, running on Service No. 123.
Detailed interior with wooden seats and printed paper covering and staircase, 6 x red pressed steel wheels with rubber tyres. 74cm long
Below a really perfect restored wooden General bus. This American restorer did an outstanding job!
Double Decker Bus Brick Container - unusual Pre-war wooden box, shaped in the form of a London Transport Double Decker Bus with printed paper overlays to sides, front and rear, 4 x wooden wheels, opening hinged roof, to reveal a selection of shaped wooden blocks. The bus is fitted with a substantial metal AEC style radiator grille to front.
An unusual example with Fairycycle advertisements, 47cm long.
| | | |
| --- | --- | --- |
| | | |
| | | |
| | | |
| | roof with hinge | |
The Bus collcection of Tri-ang authority Nigel H Robershaw. ( thank you for the picture Nigel)
1957 BUSES
In 1957 Tri-ang introduced their fantastic Double deck buses. Tri-ang produced their fabulous buses for several years in England(Belfast) as well as in Australia.
The official code in the catalogue was T. M. 3905 L.T.B. Tri-ang made various different models.
The most common is the red one with large yellow transfers on both sides. Also red is the Manchester bus sometimes with a white upper deck
The Glasgow Double Decker has a white roof, a green middle deck and pink lower deck. Another bus is the Birmingham bus in blue en white
1957 EARLY BUS
The early double deck buses were fitted with the wheels we know from the Diesel series.
Later on they were replaced by the regular 300 wheels and tyres and were fitted with axles and nuts.
| | | |
| --- | --- | --- |
| | | |
| | | |
1960-1963 BUS
Later on they were replaced by the regular 300 wheels and tyres and were fitted with axles and
(push) nuts. An English friend found in an old toy shop a big stock of these push nuts.
Brand new! If you are in need for these push nuts, sent us an email.
The buses had weather blue or white seats.
Probably due to the unwise decision to take the big route masters from London's roads, the prices for the Tri-ang buses are heavily increasing.
| | | |
| --- | --- | --- |
| | | |
| | regular nut | brand new push nuts |
BUS DECALS
Epsom and Putney were the main destinations Tri-ang used on all its Double deck buses.(Except on the Manchester, Glasgow and Birmingham bus) In stead of what some Ebay ers tell in their auctions non of these destinations are rare. On each bus there is a LIB4242 decal. ( LIB means Lines Bros)
All these decals are water slide decals. As with other items, Tri-ang was incongruent with these decals. Perhaps to save costs some buses have paper destination transfers.
The large yellow/black "Railways" and "Pedigree" advertisements are paper posters. A complete set is available in our decal section.
Why No. 93?
Mr. Alan Degenhart explains:
My father worked at Triang before the second world war, before they converted to making sub machine guns. We lived in Morden which is where I was born.
The 93 bus went from Morden and past the Triang factory on its way to Wimbledon (where I met my wife.) Her aunt also worked at triang and installed heads on dolls.
Fancy BUS DECALS ?
We often see Tri-ang buses with all manner of advertisements.
For a long time I've been under the impression that the above shown Tri-ang side advertisements were the only real advertisements and all others the work of "some amateur".
I was wrong!
U.K. Tri-ang authority David Bowers unvealed the true story of other side advertisements :
In an article of the "London Transport Magazine"dated May 1971, London Transport ( the owners of some 8000 real buses in those days) were appealing for the large pressed steel Tri-ang buses,as they had been using them to decorate with advertisements to show potential advertising customers what their adverts would look line on the real thing!
Because of their 2 feet lenght, presumably, they were big enough to show more detail.
The models they had been using were worn, so they needed more. The Tri-ang buses had been obsolete by then for about 5 years, so they were appealing for children's old toys.
The "Harrod's" bus was a promotional for that famous London store.
David, thank you for this valuable addition!
Although is doesn't make it easy to identify an advertisement as the work of "some amateur "or as a promotional bus advertisement made by London Transport.
Other Double deck buses
Never shown in any catalogue there were three other Tri-ang double deck buses.
A Glasgow, a Manchester and a Birmingham bus is various colours.
The side decals are the Coat of Arms of these cities.
October 2009 both a Birmingham and a Glasgow bus came in auction at Vectis.
They were sold for £2500 each !!!!
Manchester bus
| | | |
| --- | --- | --- |
| | | |
| | | |
| | | |
Glasgow bus
| | | |
| --- | --- | --- |
| | | |
| | | |
birmingham bus
Fellow collector John Griffiths gave us this worth full information: There has been a tendency recently to refer to all half-cab buses as 'Routemasters'. The Routemaster was, of course, the longest lived of all the tin-front half-cab buses in England, but the Triang model is much more akin to the provincial AEC Regent Mark V which superceded the Mark 111 around 1956. Most of these disappeared during the late 1960's and early 1970's. The same applies to the smaller Minic version which Triang produced in the 1960's.
| | | |
| --- | --- | --- |
| An AEC Regent Mark V | A Routemaster | A Regent Mark III |
Tri-ang Australian bus ?
Some collectors choose their own colours if they restore their bus. I've seen all kinds of varieties . The bus below however is not a restored bus but has it's original colours.
It is an Australian "Sydney" bus made in the Tri-ang factory in Auckland.
Tri-ang released two single deck buses: A red one and a Greenline single deck bus.The Greenline bus was fitted with red or white seats and had different decals.
The Red single deck bus only had a red London Transport decal on both sides.
58cm long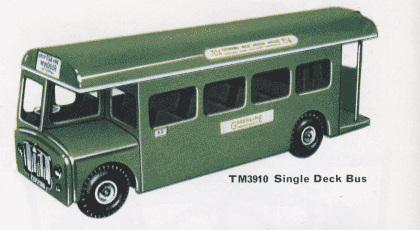 October 2009 this single deck bus was in auction at Vectis.

It has an unusual turquoise colour , the seats and, interior and floor are red.
Antiques Road Trip February 8th 2013
In Tim Wonnacot's Antiques Road trip on BBC1 expert Catherine Southon made an astonishing profit with a Tri-ang single deck bus.
The bus was repainted and missing the front panel and grill. Catherine bought the bus for £25.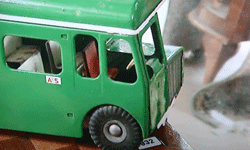 Perhaps the visitors at the auction house were infatuated by the charming Catherine, otherwise I can't find a reason

why this damaged and incomplete bus was finally sold for an amazing £85 ,

giving Catherine a £60 profit!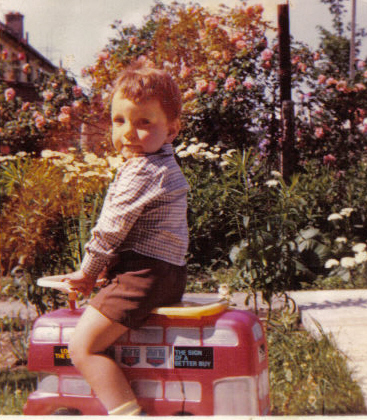 A "Sharna" bus
The double deck bus was also available as Sit 'n' Ride toy,it was made of plastic with foil windows. In some catalogues the ride on is called route master D. D. bus and in 1971 Strida bus.
The plastic Sit 'n' Ride bus on the below photo is one of the latest Tri-ang produced before it collapsed in 1973. There are significant differences to the older models. Tri-ang used the plastic wheels on this bus and the decals made place for funny transfers pretending people are sitting in the bus. It is a pity that the shown bus, supplied by"Alan Duffield", is missing these illustrations.
| | | |
| --- | --- | --- |
| | | |
| | | |
| | | |
The Strida bus was introduced in 1971. The plastic foil on the windows had make place for colourful funny decals with passengers. Unfortunately the quality of these decals was so poor, that most of these rare buses lost these decals. Thanks to Nigel Robertshaw I can show you how this Strida bus looks if complete.
Nigel thank you for these unique pictures!
After the collapse in 1973 some series of the Tri-ang products were taken over by Sharna. Besides the popular Roll's Roy's pedal car, Sharna also introduced a plastic bus with a seat on it.
| | | |
| --- | --- | --- |
| | | |
| | | |
| Sharna bus | Sharna bus | Sharna bus |