Tri-ang Series In South Africa (3)
February 2013 I received an email from Brian Brown, who lives in Pretoria South Africa:
I came across your web site which I thoroughly enjoyed reading especially the info regarding Triang in SA. I had absolutely no idea that the products were manufactured here albeit very few and not to the same standard as in England.
It made me scratch in the attic as I remembered a broken(hand me down) toy my late father gave me as a very young child in the 1960's. I always kept it and really played with it with great love and appreciation as toys were not easy to come by given the circumstances(apartheid)I was raised in.
Brian's Van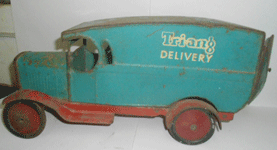 This toy was the envy of the other kids in my street because the front wheels could steer.The wheels were played right off the toy, and at the age of 13 when I got hold of bits and pieces of Meccano I put together wheel sets for the toy. I put it away and basically forgot about it until now. It is in a very bad way rust wise but the words " Triang Delivery" still stands proudly on the sides of the model. If this is SA made I will certainly be in possession of some great history.Hope you can shed some light on this toy.
In 1938 Tri-ang introduced a Motor Delivery Van (No 103/4)
This Motor Delivery Van is exactly to same as the one Brian found in his attic. except the headlights .
I'm pretty sure Brian's truck was made in South Africa. (1939 - 1947),
although there is a possibility an English family emigrated to S.A. and took the toy with them.