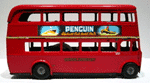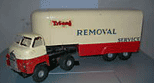 Collectors also ask me if I can provide decals for the Tri-ang Minic series
I restored the decals at 600DPI and made new ones which are exactly the same as Tri-ang used to make them.
The decals are, like the original decals, made of water slide decal paper or regular paper. ( photo quality, matt finish)
Below you see a sample of the old Tri-ang decal and the new restored decal.
Dylan, Margaret and Alan thanks for the samples!
You will need a good craft knife / very sharp scissors and a moderate ability in handling these small transfers!
Instructions for waterslide decals: Click here
For Spot On decals

Just click on the PAYPAL button to place your order .
aaa
If you like to order more items, please order these by email to prevent that you pay too much postal costs.
To email:

???????
If you are looking for a particular decal ,just send me a clear picture and I can re-create a new one.
To email:

| | |
| --- | --- |
| MG01 Minic Garage Decal set | MG02 Minic Station Decal set |
MG01

Minic Garage Decal set

6 waterslide WHITE decals:

1 x That's Shell decal

1 x Clock decal

1 x Shell oil decal

1 x BP decal

2 x Garage decal

Price £ 7,95

Priority postage worldwide :£ 2

MG02

Minic Station Decal set

5 waterslide WHITE decals:

1 x Minic decal

1 x Station decal

1 x Clock decal

1 x Bluecol decal

1 x KLG decal

Price £ 7,95

Priority postage worldwide :£ 2
| | |
| --- | --- |
| MG03 Minic Service station Decal set | MG04 Minic Express Service station Decal set |
MG03

Minic Service station Decal set

8 waterslide WHITE decals:

1 x Minic decal

1 x Service decal

1 x Station decal

1 x Clock decal

1 x KLG

1 x Wills's decal

1 x Osram

Price £ 7,95

Priority postage worldwide :£ 2

MG04

Minic Express Service station Decal set

11 waterslide WHITE decals:

1 x Minic Transport decal

1 x Minic decal

1 x Service decal

1 x Station decal

1 x Clock decal

1 x KLG

1 x Wills's decal

1 x All makes decal 1 x Open decal

1 x IN decal 1 x OUT decal

Price £ 9,95

Priority postage worldwide :£ 2
| | |
| --- | --- |
| MG05 Minic Service station No 4 Decal set | MG10 Pre War Minic Service station No 3 Decal set |
MG05

Minic Service station No 4 Decal set

16 waterslide WHITE decals:

2 x Shell decal

2 x that's Shell decal

1 x Minic decal

1 x Service decal

1 x Station decal

1 x Clock decal

1 x KLG

2 x BP Ethyl decal

1 x Ask Dominion decal

1 x Dominion decal

1 x Shell oil decal

1 x IN and 1 x OUT decal

Price £ 12.95

Priority postage worldwide :£ 2

MG10

Pre War Minic Service station

No 3 Decal set

18 waterslide WHITE decals:

1 x Minic decal

1 x Service decal

1 x Station decal

1 x Clock decal

1 x IN and 1 x OUT decal

3 x BP decal

1 x That's Shell decal

3 x Esso decal

1 x Open decal

1 x All makes decal

1 x Ford decal

1 x BP Ethyl decal 1 x BMC decal

Price £ 12.95

Priority postage worldwide :£ 2
| | |
| --- | --- |
| MG06 Minic Garage/Service stationroof Decal | |
MG06

Minic Roof Decal

1 waterslide WHITE decal:

134mm x 53 mm

Price £ 6.95

Priority postage worldwide :£ 2
| | |
| --- | --- |
| M01 60 M All red D.D. bus decal set | M02 60 M All red D.D. bus PEDIGREE decal set |
M01

60 M All red D.D. bus

12 waterslide WHITE decals

1 x Minic Cars decal

1 x Frog Penguin decal

1 x 14 Kings cross decal

3 x Putney 14 decal

1 x Pedigree pram decal

1 x number plate LBL 174 decal

2 x London transport decal

2 x side decal CF3

Price £ 11,95

Priority postage worldwide :£ 2

M02

60 M All red D.D. bus

Pedigree

12 waterslide WHITE decals

1 x Minic Cars decal

1 x Frog Penguin decal

1 x 14 Kings cross decal

3 x Putney 14 decal

1 x Pedigree pram decal

1 x number plate LBL 174 decal

2 x London transport decal

2 x side decal CF3

Price £ 11,95

Priority postage worldwide :£ 2
| | |
| --- | --- |
| M03 60 M All red D.D. bus MARKET SQ decal set | M04 60 M Minic Double Deck bus OLD Style decal set |
M03

60 M All red D.D. bus

MARKET SQ

10 waterslide WHITE decals

1 x Minic Cars decal

1 x Pedal Motors decal

1 x Market SQ front decal

1 x Market SQ back decal

1 x 7A side decal

1 x number plate LBL 174 decal

1 x Tri-ang toys back decal

2 x London transport decal

1 x side decal CF3

Price £ 11,95

Priority postage worldwide :£ 2

M04

60 M Minic Double Deck bus

OLD Style

8 waterslide WHITE decals

1 x177 front decal

1 x Mitchum back decal

1 x Bovril decal

1 x Ovaltine decal

1 x number plate LBL 174 decal

1 x Tri-ang decal (12mm x 12mm)

2 x London transport decal (50mm long)

Price £ 11,95

Priority postage worldwide :£ 2
| | |
| --- | --- |
| M044 60 M Bovril Green bus OLD Style decal set | M054 60 M Minic Bovril Double Deck bus decal set |
M044

60 M Minic Bovril GREEN Double Deck bus

OLD Style

8 waterslide WHITE decals

1 x177 front decal

1 x Mitchum back decal

1 x Bovril decal

1 x Ovaltine decal

1 x number plateAYV 604 decal

1 x Bisto (25mm x 12mm)

2 x London transport decal (50mm long)

Price £ 11,95

Priority postage worldwide :£ 2

M054

60 M Minic Double Deck bus

8 waterslide WHITE decals

Price £ 11,95

Priority postage worldwide :£ 2

1 x Bovril decal

1 x Pedal motors decal

1 x Frog Penguin decal

1 x 14 Kings cross decal

3 x Putney 14 decal

1 x number plate LBL 174 decal

2 x London transport decal

2 x side decal CF3

Price £ 11,95

Priority postage worldwide :£ 2
| | |
| --- | --- |
| M055 Route master Minic Double Deck bus decal set | M056 52 M Minic Single Deck bus decal set |
M0 55

Route master Minic Double Deck bus

8 waterslide WHITE decals

1 x" 91" front decal x 2

1 x "91" side decal

1 x "91" back decal

1 x "Camera" back decal

2 x London transport decal (50mm long)

Price £ 11,95

Priority postage worldwide :£ 2

M0 56

52 M Minic Single Deck bus

BLUE

5 waterslide WHITE decals

1 x Dorking front decal

1 x Frog back decal

2 x London transport decal

1 x side decal CF3

Price £ 4,95

Priority postage worldwide :£ 2
| | |
| --- | --- |
| M057 52 M Minic Single Deck bus decal set | M0 58 52 M Minic Greenline bus decal set |
M0 57

52 M Minic Single Deck bus

RED

6 waterslide WHITE decals

1 x Dorking front decal

1 x Bisto back decal

1 x AYV back decal

2 x London transport decal

1 x side decal CF3

Price £ 5,95

Priority postage worldwide :£2

M0 58

52 M Minic Greenline bus

9 waterslide WHITE decals

1 x Dorking front decal

1 x Frog back decal

1 x bisto decal

1 x AYV back decal

2 x Greenline decal

1 x side decal CF3

Price £ 6,95

Priority postage worldwide :£2
| | |
| --- | --- |
| M1545 Minic "Shell" bus decal set | 79M Great Western Railway Van decal set |
M1545 Minic "Shell" bus

10 waterslide WHITE decals

2 x Go Well side decal

1 x Go Well back decal

1 x "255" back decal

1 x "255" front decal

1 x "255" side decal

1 x front number plate

1 x beachcomber

2 x London transport decal

Price £ 13,95

Priority postage worldwide :£ 2

M0 59

79M Great Western Railway Van

9 decals

2 x Pedigree paper posters

2 x Express waterslide clear decals

3 x GWR waterslide clear decals

2 x B4157 waterslide white decals

Price £ 8,95

Priority postage worldwide :£ 2
| | |
| --- | --- |
| 80M L.M.S. Van decal set | 81M Liner Van decal set |
M0 60

80M L.M.S. Van

8 decals

1 x Minic paper posters

1 x WAKOUWA paper poster

2 x LMS express waterslide decals

2 x LMS waterslide decals

2 x 5147 G waterslide decals

Price £ 8,95

Priority postage worldwide :£ 2

M0 61

81M Liner Van

7 decals

1 x FROG paper posters

1 x WAKOUWA paper poster

2 x LNER Express waterslide white decals

1 x L.N.E.R waterslide white decal

1 x LNER waterslide white decal

Price £ 8,95

Priority postage worldwide :£ 2
Minic 2846 Mech. Horse and Pantechnicon and Minic 103M Shutter decal set

Triang Minic 28BRPre-War Articulated

Pantechnicon "Brockhouse" decal set
M0 62

Minic 2846 Mech. Horse and Pantechnicon

and

Minic 103M Shutter

4 waterslide WHITE decals

2 x Minic Transport

2 x Triang made in England

Price £ 6,95

Priority postage worldwide :£ 2

M0 63

Minic 28BR "Brockhouse decl aset

5 waterslide WHITE decals

2 x Brockhouse decals

2 x Triang made in England

1 x Minic decal

Price £ 8 ,95

Priority postage worldwide :£ 2
| | |
| --- | --- |
| Minic 3M Ford Royal Mail Van decal set | Minic 2822 Ford Royal Mail Van decal set |
M0 64

Minic 3M Ford Royal Mail Van

4 waterslide WHITE decals

2 x Royal Mail E & R

1 x Tri-ang decal

1 x Minic decal

Price £ 6,95

Priority postage worldwide :£ 2

M0 65

Minic 2822 Ford Royal Mail Van

2 waterslide WHITE decals

2 x Royal Mail G & R

Price £ 4,95

Priority postage worldwide :£ 2
| | |
| --- | --- |
| M31 Shell BP Fuel tanker decal set | M124 British Road Services decal set |
M0 66

M31 Shell BP Fuel Tanker decal set

2 waterslide WHITE decals:

2 x Shell BP Fuel Oil decals

Price £ 4,95

Priority postage worldwide :£ 2

M0 67

M124 British Road Services

4 waterslide WHITE decals:

2 x door decals

2 x British Road Services decals

Price £ 4,95

Priority postage worldwide :£ 2
| | |
| --- | --- |
| M124 British Road Services decal set | Minic 107 British Railways decal set |
M0 68

M124 British Road Services

4 waterslide WHITE decals:

2 x door decals

2 x British Road Services decals

Price £ 4,95

Priority postage worldwide :£ 2

M0 69

Minic 107 British Railways

4 waterslide CLEAR decals

2 x Cheap Tickets

2 x British Railways

Price £ 7,95

Priority postage worldwide :£ 2
| | |
| --- | --- |
| Minic 224M no3 Express Delivery Van decal set | Minic 22M C. P. & Co Van decal set |
M0 70

Minic 224M no3 Express Delivery Van

2 waterslide CLEAR decals

2 x Express

Price £ 5,95

Priority postage worldwide :£2

M0 71

Minic 22M C. P. & Co Van

2 waterslide WHITE decals

2 x Carter

Price £ 7,95

Priority postage worldwide :£ 2
| | |
| --- | --- |
| Pre War Minic 22M C. P. Van decal set | Pre War Minic 22M C. P. Van decal set |
M0 72

Minic PM 22M Carter Paterson Van

3 waterslide WHITE decals

2 x Carter

1 x Minic deca

l

Price £ 7,95

Priority postage worldwide :£ 2

M0 73

Minic PM wt 22M Carter Paterson Van

3 waterslide WHITE decals

2 x Carter

1 x Minic decal

Price £ 7,95

Priority postage worldwide :£2
| | |
| --- | --- |
| Minic 22M C.P. & Co Van " Send it by "l decal set | Minic 22M Atco delivery decal set |
M0 74

Minic 22M C.P. & Co Van " Send it by "l

2 waterslide WHITE decals

2 x Carter

Price £ 7,95

Priority postage worldwide :£ 2

M0 75

Minic 22M Atco delivery

4 waterslide WHITE decals

2 x Atco side decals

2 x Made in England decal

Price £ 8,95

Priority postage worldwide :£2
| | |
| --- | --- |
| New Zealand (27M) Minic Winstone Ltd decal set | New Zealand Minic Pedigree Prams decal set |
M0 76

New Zealand Minic Winstone Ltd decal set

3 waterslide WHITE decals:

1 x Winstone Ltd decal

1 x Winstone Tiles decal

1 x Minic decal

Price £ 8,95

Priority postage worldwide :£ 2

M0 77A

New Zealand Minic Pedigree decal set

2 waterslide WHITE decals:

2 x Pedigree Prams decal

Price £ 9.95

Priority postage worldwide :£ 2
| | |
| --- | --- |
| Minic tanker 15 M decal set | New Zealand (16M) Minic tanker Auckland decal set |
M0 77A

15m Minic tanker decal set

2 waterslide WHITE side decals

(36mm x20mm)

Price £ 4.95

Priority postage worldwide :£ 2

M0 77

New Zealand 16m Minic Auckland decal set

2 waterslide WHITE decals:

2 x Auckland decal

Price £ 3

Priority postage worldwide :£ 2
| | |
| --- | --- |
| Minic 24 M Breakdown lorry decal set | Minic 71m Mech. Horse and milk tanker decal set |
M0 78

Minic 24 M Breakdown lorry

2 waterslide WHITE decals

2 x Minic

Price £ 4,95

Priority postage worldwide :£ 2

M0 79

Minic 71m Mech. Horse and milk tanker

2 waterslide CLEAR decals

2 x Dairies

Price £ 4,95

Priority postage worldwide :£ 2
| | |
| --- | --- |
| Minic 71m Mech. Horse and milk tanker Blue Cream decal set | Minic clockwork Jeep decal set |
M0 80

Minic 71m Mech. Horse and milk tanker

Blue-white

2 waterslide CLEAR decals

2 x Dairies

Price £ 4,95

Priority postage worldwide :£ 2

M0 81

Minic clockwork Jeep

5 waterslide white decals

1 x Bonnet star decal

2 x side decals

1 x rear star decal

Price £ 4,95

Priority postage worldwide :£ 2
| | |
| --- | --- |
| Minic 75m Ambulance decal set | Minic Aveling Barford roller decal set |
M0 82

Minic 75m Ambulance

6 x paper decals

3 x Red Cross

( 1 for the Roof)

2 x Red Cross

1 x Ambulance

Price £ 4,95

Priority postage worldwide :£2

M0 83

Minic Avaling Barford roller decal set

4 x waterslide WHITE decals

1 x Winding Hole

1 x Invicta front decal

2 x Aveling Barford decal

Price £ 6,95

Priority postage worldwide :£2
| | |
| --- | --- |
| Minic 3124 Austin Evening News decal set | Minic Austin A40 Van decal set |
M0 84

Minic 3124 Austin

4 x waterslide WHITE decals

2 x All the results

2 x First with the News

Price £ 5,95

Priority postage worldwide :£ 2

M0 85

Minic Austin A40 minic transport

2 x waterslide WHITE decals

2 x Minic transport

Price £3,95

Priority postage worldwide :£ 2
| | |
| --- | --- |
| Minic 62M Fire Engine decal set | Minic 78M Pool tanker decal set |
M0 86

Minic 62M Fire Engine

4 x waterslide WHITE decals

2 x Tri-ang decal

2 x minic decal

Price £ 4,50

Priority postage worldwide :£ 2

M0 87

Minic 78M Pooltanker decal set

3 x waterslide WHITE decals

2 x Pool side decals

1 x Pool rear decal

Price £ 4.50

Priority postage worldwide :£ 2
| | |
| --- | --- |
| Minic 71M Brewery decal set | |
M0 88

Minic 71M Brewery

2x waterslide WHITE decals

63mm x 4 mm

Price £ 4,95

Priority postage worldwide :£ 2
| | |
| --- | --- |
| TRIANG SPOT-ON ROUTEMASTER BUS 284 Decal set | TRIANG SPOT-ON ROUTEMASTER BUS 25 Decal set |
Spot 1

284 Ovaltine Spot on Decal set

16 waterslide WHITE decals

Price £ 9,95

Priority postage worldwide :£ 2

Spot 2

25 Bournville Spot on Decal set

16 waterslide WHITE decals

Price £ 9,95

Priority postage worldwide :£ 2
| | |
| --- | --- |
| TRIANG SPOT ON Security Express Decal set | TRIANG SPOT-ON Glass & Holmes Decal set |
Spot 3

Spot on Decal set

4 waterslide WHITE decals

2 x Security

2 x numberplate

Price £ 4,95

Priority postage worldwide :£ 2

Spot 4

Spot on Glass & Holmes Decal set

6 waterslide CLEAR decals

2 x Glass decal

2 x Est.

2 x numberplate

Price £ 4,95

Priority postage worldwide : £2
| | |
| --- | --- |
| TRIANG SPOT ON 106 Fire brigade Decal set | TRIANG SPOT-ON 338 RAC Decal set |
Spot 5

Spot on Decal set

5 waterslide WHITE decals

2 x RAF Fire service decal

2 x numberplate

1 x RAF decal

Price £ 4,95

Priority postage worldwide :£ 2

Spot 6

Spot on RADIO Decal set

6 waterslide WHITE decals

2 x Radio decal 2

1 x RAC front decal

2 x numberplate

1 x headboard decal

Price £ 4,95

Priority postage worldwide : £2
| | |
| --- | --- |
| TRIANG SPOT ON 210/I Royal Mail Mini Van Decal set | TRIANG SPOT ON 158A Shell/BP decal set |
spot 7

Royal Mail Spot on Decal set

4 waterslide WHITE decals

2 x Royal Mail decal

2 x numberplate

Price £ 4,50

Priority postage worldwide :£ 2

spot 8

Spot on Shell/BP Decal set

6 waterslide WHITE decals

2 x Petroleum side decals

2 x numberplate

1 x Shell rear decal 1 x BP rear decal

Price £ 7,95

Priority postage worldwide :£ 2
Back to the home page: click